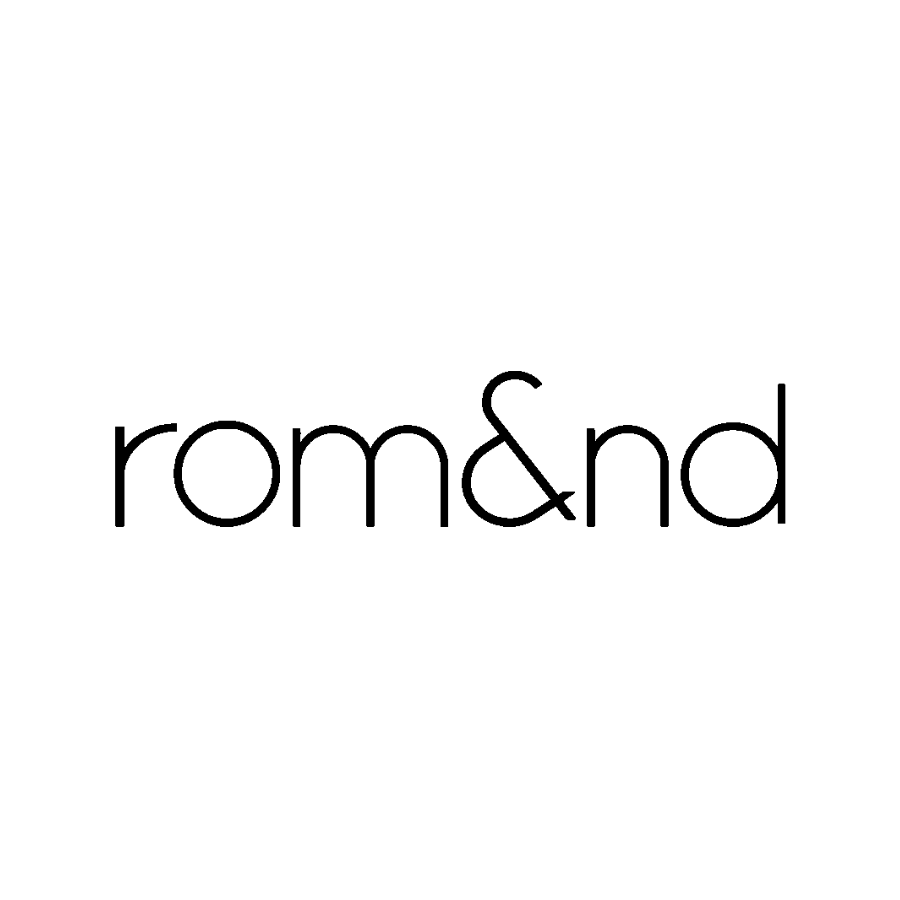 rom&nd
rom&nd is a cosmetics brand based in South Korea and co-founded by renowned Korean beauty influencer Saerom Min, also known as Gaeko. The brand's philosophy aligns with Saerom's transformative makeup techniques, resulting in high-quality products that highlight each customer's unique beauty and gained quick popularity after launch.
The Captivating Journey of Rom&nd: Empowering Asian Women Worldwide
Rom&nd's story is one of inspiration and empowerment, rooted in the celebration and enhancement of the natural beauty of Asian women. Since its establishment in 2016, this trendy Korean makeup brand has rapidly gained global recognition, captivating the hearts of beauty enthusiasts worldwide. With a steadfast commitment to inclusivity, self-expression, and embracing individuality, Rom&nd has become a beacon of beauty and empowerment.
A Commitment to Beauty and Quality: Elevating Makeup Standards
Rom&nd is unwavering in its dedication to creating products that not only visually appeal but also deliver exceptional quality and performance. Every aspect of a Rom&nd product reflects the brand's meticulous attention to detail and commitment to excellence. From the moment you open a Rom&nd product, you are enveloped in an experience that exemplifies their unwavering pursuit of beauty and quality.
Empowering Asian Women: Understanding and Catering to Their Beauty Needs
At the core of Rom&nd's mission lies the empowerment of Asian women, particularly those residing in North America. The brand recognizes the diverse beauty needs and preferences of this demographic and strives to provide products that cater to their desires. Rom&nd's commitment to inclusivity resonates deeply with Asian women, creating a sense of representation and allowing them to embrace their unique beauty confidently.
Aesthetic Delights: Rom&nd Packaging as Art
Prepare to be captivated by the sheer artistry of Rom&nd's packaging. The brand takes immense pride in its ability to create makeup essentials that are not only visually stunning but also serve as captivating works of art. Each Rom&nd product is carefully encased in packaging that is meticulously designed to reflect the brand's commitment to beauty and aesthetics.
Marbled Marvels: A Visual Symphony
Rom&nd's packaging features mesmerizing marbled designs that are guaranteed to catch your eye. The interplay of colors and patterns in each product creates a unique visual symphony, making it a delightful addition to your vanity or makeup collection. With Rom&nd, even the act of applying makeup becomes an experience filled with wonder and beauty.
Glossy Glamour: The Art of Presentation
Rom&nd understands the importance of presentation in the world of beauty. Their products shine with a glossy finish, adding a touch of luxury and elegance to your makeup routine. The brand's unwavering commitment to delivering a visually appealing experience is evident in every product they offer, ensuring that your journey with Rom&nd is a glamorous one.
Unleash Your Creativity: Stay Ahead of Makeup Trends
Rom&nd prides itself on being at the forefront of makeup trends, always striving to provide you with endless possibilities to express your unique style and personality. Their extensive range of on-trend makeup shades and textures ensures that you never fall behind when it comes to creating captivating looks. Rom&nd empowers you to experiment, innovate, and embrace your creativity with confidence.
Vibrant Eyeshadow Palette: Endless Eye-Opening Potential
Rom&nd offers a wide array of eyeshadow palettes, each carefully curated to feature a selection of shades that inspire and elevate your eye makeup game. From soft neutrals that enhance your natural beauty to bold and vibrant hues that allow you to make a statement, Rom&nd's palettes cater to every occasion and mood. Whether you prefer a subtle everyday look or a dramatic smoky eye, Rom&nd has the perfect palette to suit your style.
Luscious Lip Tints: A Burst of Color and Hydration
Indulge your lips with Rom&nd's luscious lip tints. These innovative products provide a burst of color and hydration, leaving your lips looking and feeling beautiful. Rom&nd offers a range of shades that cater to every preference, from playful pinks to sultry reds, allowing you to express your individuality and enhance your lips with confidence. Rom&nd lip tints have quickly become a must-have for any makeup enthusiast seeking vibrant and long-lasting lip color.
Textured Finishes: Adding Depth and Dimension
Rom&nd understands that makeup is not solely about color but also about texture. Their collection includes products with diverse finishes, such as velvety mattes, shimmery metallics, and dewy glow, enabling you to create multi-dimensional makeup looks that reflect your personal style. With Rom&nd, you have the freedom to experiment and explore different finishes, elevating your makeup game to new heights.
A Fusion of Talent and Creativity: Rom&nd x Gaeko
Experience the magic that unfolds when Rom&nd collaborates with renowned celebrity makeup artist and YouTube star Saerom Min, better known as Gaeko. This extraordinary collaboration brings together the expertise and artistic vision of Gaeko with Rom&nd's dedication to creating exceptional beauty products. The result is a fusion of talent and creativity that pushes boundaries and delivers innovative cosmetics.
Signature Looks and Exclusive Collections: Unveiling Beauty Secrets
Delve into the exclusive products and collections born out of the collaboration between Rom&nd and Gaeko. Gaeko's expertise and insights into the latest beauty trends and techniques infuse these offerings with a touch of magic. Whether you aspire to achieve Gaeko's signature looks or simply desire to explore new and exciting makeup possibilities, these specially crafted products are designed to help you express your unique style with confidence.
An Influencer's Perspective: Redefining Beauty Standards
Gaeko's presence in the beauty industry as a celebrity makeup artist and YouTube star adds a fresh perspective to Rom&nd. His expertise and passion for beauty inspire the brand to continuously push boundaries, creating products that cater to the diverse needs of Asian women in North America. Through this collaboration, Rom&nd ensures that its products not only follow current trends but also reflect the latest beauty techniques and preferences, empowering you to stay ahead of the curve.
Beauty with a Romantic Twist: Embracing Emotions and Femininity
Rom&nd embraces the "romantichic" aesthetic, offering a unique blend of romance and chic elegance. The brand understands that beauty is not merely about following trends but also about capturing emotions and expressing femininity. With Rom&nd, you can effortlessly achieve a look that combines romance and sophistication, allowing your inner beauty to shine through.
Soft and Ethereal: Enhancing Your Natural Beauty
Rom&nd's makeup products are designed to enhance your natural beauty with soft, ethereal touches. Whether it's a subtle blush that gives a natural flush to your cheeks or a luminous highlighter that imparts a radiant glow, Rom&nd's range of products allows you to create a soft and dreamy look that reflects your inner romantic spirit. With Rom&nd, you can embrace your soft side and radiate beauty with grace.
Bold and Edgy: Embracing Individuality and Confidence
Rom&nd also caters to those who prefer a bolder and edgier style. With their extensive selection of vibrant shades and unique textures, you can unleash your creativity and experiment with different looks. Rom&nd empowers you to express your individuality and embrace your inner chic, encouraging you to step out of your comfort zone and exude confidence through your makeup.
Confidence and Self-Expression: Your Journey to True Beauty
Rom&nd firmly believes that beauty is a form of self-expression and a means to boost your confidence. By offering a diverse range of products that cater to different styles and preferences, Rom&nd encourages you to explore your unique beauty journey. Whether you want to embracea romantic allure or exude chic sophistication, Rom&nd is your trusted partner in unlocking your true beauty potential. With Rom&nd, you can confidently express yourself and embark on a transformative journey of self-discovery through makeup.
Experience the Magic of Rom&nd: Embrace Your Unique Beauty Journey
It's time to experience the magic of Rom&nd and unlock your true beauty potential. With its irresistible packaging, trendsetting makeup shades, and unwavering commitment to excellence, Rom&nd has become an essential part of the beauty routines of Asian women living in North America. Embrace the "romantichic" vibe and elevate your makeup game with Rom&nd's high-quality cosmetics.
Explore the brand's meticulously curated collections, crafted with love and passion, and discover the joy of self-expression through makeup. Rom&nd empowers you to turn heads, make a statement, and unleash your inner confidence. With Rom&nd, every stroke of your brush becomes a brushstroke of empowerment and celebration of your unique beauty journey.
Are you ready to embark on this captivating journey with Rom&nd? Get ready to indulge in the artistry, innovation, and empowerment that define this extraordinary Korean brand. Let Rom&nd be your guide as you discover the endless possibilities of self-expression, creativity, and beauty that await you.